Presentation kits for startups and busy designers
---
Design any pitch decks in minutes not hours. Tell a story with ready made presentation kits and templates.
---
---
Trusted by great companies
---
Get a taste of
what's inside Zlides Pro Pack
Use our ready-made templates to easily create presentations without any hassle and fast!

---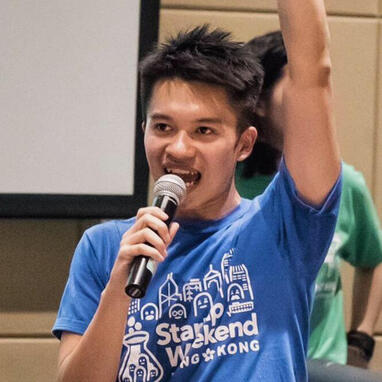 Zlides Pro Pack
40 unique slides

80 total slides

150 vector icons

Light and dark themes

60 additional components

Free updates
---
Zlides Lollipop Pack
30 unique slides

60 total slides

100 vector icons

Coral and light grey themes

20 additional components

Free updates
---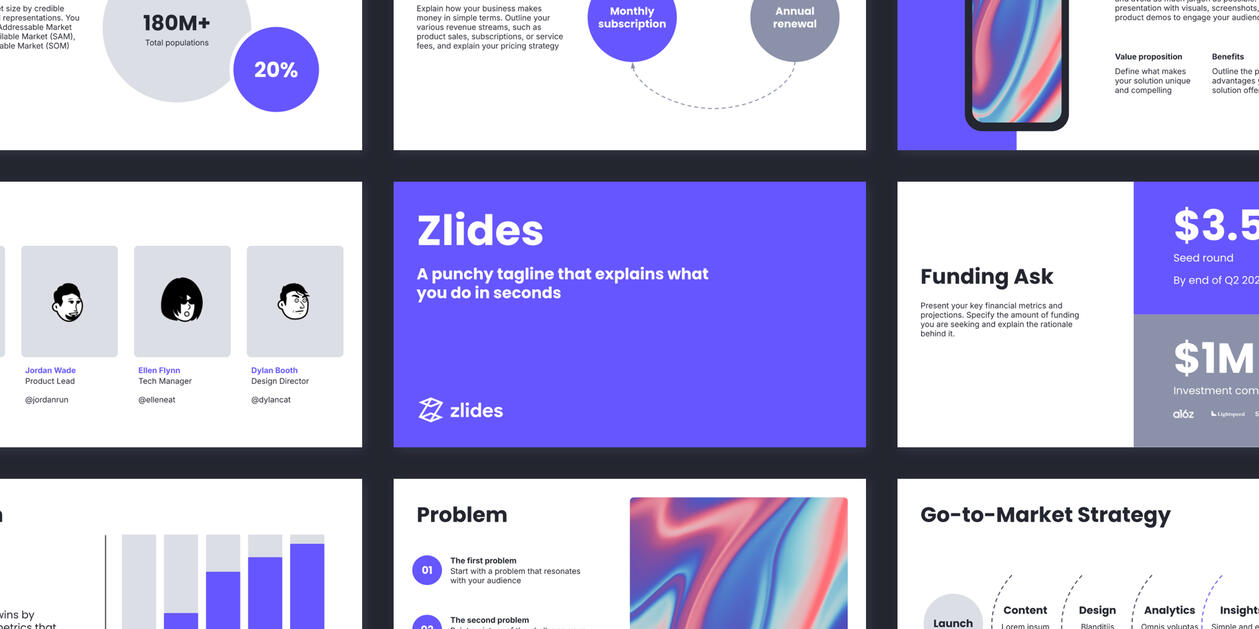 Zlides Avocado Pack
20 unique slides

50 vector icons

Green theme

20 additional components

Free updates
---
---
Slides
More than 40 unique layouts
HD Display
16:9 aspect widescreen ratio
Editable
Drag & drop customizable
Fonts
System fonts, no installation
Icons
Over 150 minimal vector icons
Branding
Font and color guidelines
---
Need custom work?
If for some reason you don't find the presentation kit that best suits your needs, please feel free to reach out. We will be happy to design custom presentation slides just for you! Tell us more.
---
Stop making ugly slides
Learn how you can become a presentation design pro. Read design tips in your inbox every month!
---
Terms & Conditions
---
Updated August 26, 2019

1. Introduction
These Website Standard Terms And Conditions (these "Terms" or these "Website Standard Terms And Conditions") contained herein on this webpage, shall govern your use of this website, including all pages within this website (collectively referred to herein below as this "Website"). These Terms apply in full force and effect to your use of this Website and by using this Website, you expressly accept all terms and conditions contained herein in full. You must not use this Website, if you have any objection to any of these Website Standard Terms And Conditions.

This Website is not for use by any minors (defined as those who are not at least 18 years of age), and you must not use this Website if you a minor.

2. Intellectual Property Rights
Other than content you own, which you may have opted to include on this Website, under these Terms, Zlides and/or its licensors own all rights to the intellectual property and material contained in this Website, and all such rights are reserved. You are granted a limited license only, subject to the restrictions provided in these Terms, for purposes of viewing the material contained on this Website.

3. Restrictions
You are expressly and emphatically restricted from all of the following:

publishing any Website material in any media;
selling, sublicensing and/or otherwise commercializing any Website material;
publicly performing and/or showing any Website material;
using this Website in any way that is, or may be, damaging to this Website;
using this Website in any way that impacts user access to this Website;
using this Website contrary to applicable laws and regulations, or in a way that causes, or may cause, harm to the Website, or to any person or business entity;
engaging in any data mining, data harvesting, data extracting or any other similar activity in relation to this Website, or while using this Website;
using this Website to engage in any advertising or marketing;
Certain areas of this Website are restricted from access by you and Zlides may further restrict access by you to any areas of this Website, at any time, in its sole and absolute discretion. Any user ID and password you may have for this Website are confidential and you must maintain confidentiality of such information.

4. Your Content
In these Website Standard Terms And Conditions, "Your Content" shall mean any audio, video, text, images or other material you choose to display on this Website. With respect to Your Content, by displaying it, you grant Zlides a non-exclusive, worldwide, irrevocable, royalty-free, sublicensable license to use, reproduce, adapt, publish, translate and distribute it in any and all media.

Your Content must be your own and must not be infringing on any third party's rights. Zlides reserves the right to remove any of Your Content from this Website at any time, and for any reason, without notice.

5. No warranties
This Website is provided "as is," with all faults, and makes no express or implied representations or warranties, of any kind related to this Website or the materials contained on this Website. Additionally, nothing contained on this Website shall be construed as providing consult or advice to you.

6. Limitation of liability
In no event shall , nor any of its officers, directors and employees, be liable to you for anything arising out of or in any way connected with your use of this Website, whether such liability is under contract, tort or otherwise, and , including its officers, directors and employees shall not be liable for any indirect, consequential or special liability arising out of or in any way related to your use of this Website.

7. Indemnification
You hereby indemnify to the fullest extent from and against any and all liabilities, costs, demands, causes of action, damages and expenses (including reasonable attorney's fees) arising out of or in any way related to your breach of any of the provisions of these Terms.

8. Severability
If any provision of these Terms is found to be unenforceable or invalid under any applicable law, such unenforceability or invalidity shall not render these Terms unenforceable or invalid as a whole, and such provisions shall be deleted without affecting the remaining provisions herein.

9. Variation of Terms
is permitted to revise these Terms at any time as it sees fit, and by using this Website you are expected to review such Terms on a regular basis to ensure you understand all terms and conditions governing use of this Website.

10. Assignment
shall be permitted to assign, transfer, and subcontract its rights and/or obligations under these Terms without any notification or consent required. However, .you shall not be permitted to assign, transfer, or subcontract any of your rights and/or obligations under these Terms.

11. Entire Agreement
These Terms, including any legal notices and disclaimers contained on this Website, constitute the entire agreement between and you in relation to your use of this Website, and supersede all prior agreements and understandings with respect to the same.

12. Governing Law & Jurisdiction
These terms of use are governed by and construed in accordance with the laws of the Hong Kong Special Administrative Region and the parties submit to the jurisdiction of the courts of the Hong Kong Special Administrative Region.
---
Privacy Policy
Updated August 26, 2019

At Zlides, accessible from https://www.zlides.co, one of our main priorities is the privacy of our visitors. This Privacy Policy document contains types of information that is collected and recorded by Zlides and how we use it.

If you have additional questions or require more information about our Privacy Policy, do not hesitate to contact us through email at hello@zlides.co

General Data Protection Regulation (GDPR)
We are a Data Controller of your information.

Zlides legal basis for collecting and using the personal information described in this Privacy Policy depends on the Personal Information we collect and the specific context in which we collect the information:

Zlides needs to perform a contract with you

You have given Zlides permission to do so

Processing your personal information is in Zlides legitimate interests

Zlides needs to comply with the law

Zlides will retain your personal information only for as long as is necessary for the purposes set out in this Privacy Policy. We will retain and use your information to the extent necessary to comply with our legal obligations, resolve disputes, and enforce our policies. Our Privacy Policy was generated with the help of GDPR Privacy Policy Generator.

If you are a resident of the European Economic Area (EEA), you have certain data protection rights. If you wish to be informed what Personal Information we hold about you and if you want it to be removed from our systems, please contact us.

In certain circumstances, you have the following data protection rights:

The right to access, update or to delete the information we have on you.
The right of rectification.
The right to object.
The right of restriction.
The right to data portability
The right to withdraw consent
Log Files
Zlides follows a standard procedure of using log files. These files log visitors when they visit websites. All hosting companies do this and a part of hosting services' analytics. The information collected by log files include internet protocol (IP) addresses, browser type, Internet Service Provider (ISP), date and time stamp, referring/exit pages, and possibly the number of clicks. These are not linked to any information that is personally identifiable. The purpose of the information is for analyzing trends, administering the site, tracking users' movement on the website, and gathering demographic information.

Cookies and Web Beacons
Like any other website, Zlides uses 'cookies'. These cookies are used to store information including visitors' preferences, and the pages on the website that the visitor accessed or visited. The information is used to optimize the users' experience by customizing our web page content based on visitors' browser type and/or other information.

Privacy Policies
You may consult this list to find the Privacy Policy for each of the advertising partners of Zlides.

Third-party ad servers or ad networks uses technologies like cookies, JavaScript, or Web Beacons that are used in their respective advertisements and links that appear on Zlides, which are sent directly to users' browser. They automatically receive your IP address when this occurs. These technologies are used to measure the effectiveness of their advertising campaigns and/or to personalize the advertising content that you see on websites that you visit.

Note that Zlides has no access to or control over these cookies that are used by third-party advertisers.

Third Party Privacy Policies
Zlides's Privacy Policy does not apply to other advertisers or websites. Thus, we are advising you to consult the respective Privacy Policies of these third-party ad servers for more detailed information. It may include their practices and instructions about how to opt-out of certain options. You may find a complete list of these Privacy Policies and their links here: Privacy Policy Links.

You can choose to disable cookies through your individual browser options. To know more detailed information about cookie management with specific web browsers, it can be found at the browsers' respective websites. What Are Cookies?

Children's Information
Another part of our priority is adding protection for children while using the internet. We encourage parents and guardians to observe, participate in, and/or monitor and guide their online activity.

Zlides does not knowingly collect any Personal Identifiable Information from children under the age of 13. If you think that your child provided this kind of information on our website, we strongly encourage you to contact us immediately and we will do our best efforts to promptly remove such information from our records.

Online Privacy Policy Only
Our Privacy Policy applies only to our online activities and is valid for visitors to our website with regards to the information that they shared and/or collect in Zlides. This policy is not applicable to any information collected offline or via channels other than this website.

Consent
By using our website, you hereby consent to our Privacy Policy and agree to its terms.
---
FAQ
What makes Zlides different?

Zlides is designed to simplify presentation design. We open any custom ideas in content structures, visual design, and pitch deck template for all users.

Is Zlides presentation kit free?

The basic version is completely free. If you like it, consider upgrade to pro presentation kit, we would be grateful! We will provide advanced features in Zlides Pro and offer continuous updates for free.

I need some help to design the presentation, can you customize it for me?

Yes. We do have a customization service. We cover everything you need in content, visual design and storytelling. We design and create dynamic templates from scratch. Find out more.

Which file formats are supported?

Zlides is compatible with PowerPoint, Google Slides, and Keynote for all basic presentation designs. We plan to create Canva and Prezi formats in the future.

Updates?

Once we've added the new features, you'll receive an email notification with a link to download the latest version. We are constantly making updates, please email us at hello@zlides.co for any suggestions.

Can you help me?

If you need any help and friendly advice, feel free to email us or leave a message on Instagram.